Monday - 06/02/06

I left college at lunchtime to go meet Gary in town. We went into the Royal Concert Hall to take photographs but we werent there long. We went to his and after painting zombes for a while we met Dyno and went to Mother Indias for Pangs birthday dinner. There was quite a few poeple there, most of who I didn't know. Didnt matter thouhg, the food was super and it was a good night.

Tuesday - 07/02/06

I slept in for college, so I didnt bother going in. I went to town and met Ross and Richard. I went with them to the studio and met Toma, and the other Ross there. I touched cushties most of the time I was there. Was a bit of a laugh and stayed there til about ten or eleven.






Richard and Ross made themselves nice hats



the place was filled with funny little lights



I cant remember this boys name but he was ollldddd



gang vocals



I made the cushion into a slipper




Wendesday - 08/02/06

Gary came round after his work and we watched Batman. I paused it half way through and the DVD starting making really dodgy noises to which I said "Oh my god, it's actually killing the DVD" Gary found it hilarious,wouldnt stop laughing. I didnt realy get it :s

Saturday - 11/02/06

Cait came round to mine for some dinner and we went to Jayes for a drink. We headed to the Brunswick Hotel for Numbers. It was a decent night but I dont remember the last half hour in the slightest although I'm pretty sure I just left without saying bye to anyone and then ended up in a phone box being raging because poeple wouldnt answer the phone. I did get some chat though (y)






Jaye enjoys her bottle of magners



I look about 12 in this photo



I borrowed Jayes shoes



smooch



Jaye got herself a french boyfriend


"bonjour, im from Bordeaux!"





Tuesday - 14/02/06

HAPPY VALENTINES DAY

I booked a hair appointment, WELL OVERDUE! I made cookies, cakes and a card. Gary came round after his work, he had made me a lovey card. We ate cakes and he stayed over.




Wednesday - 15/02/06

I went back to primary school to meet up with an artist so I could photograph her. We sat about for ages chatting and rembered how I i interviewed her for "Golfhill News" when I was about 11, hah!

Thursday - 16/02/06

I got my hair cut and coloured, I LOVE it. I went to the art school at night with Jaye and Caitlin, It was a super night. Lots of poeple were out and I had a good dance. I met Kevan, Toma and Ross afterwards and walked for a bit before getting a taxi home. I got the hiccups and i thought they were going to make me throw up, I didnt though, all I did was snooze.




I stole these photos from Holly

101 ways to wear my scarf: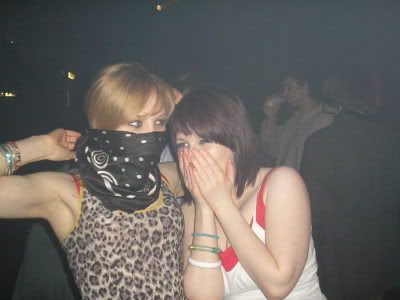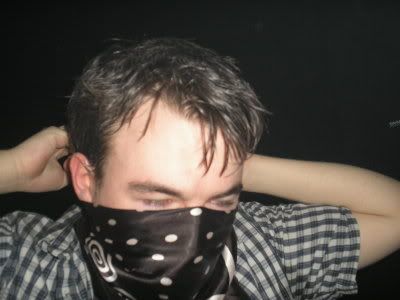 The toilets was where I seemed to meet most poeple



I have no idea who this is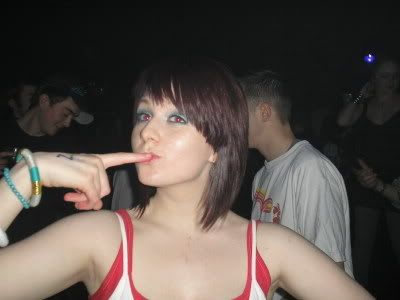 I got to look really super cool wearing some guys hat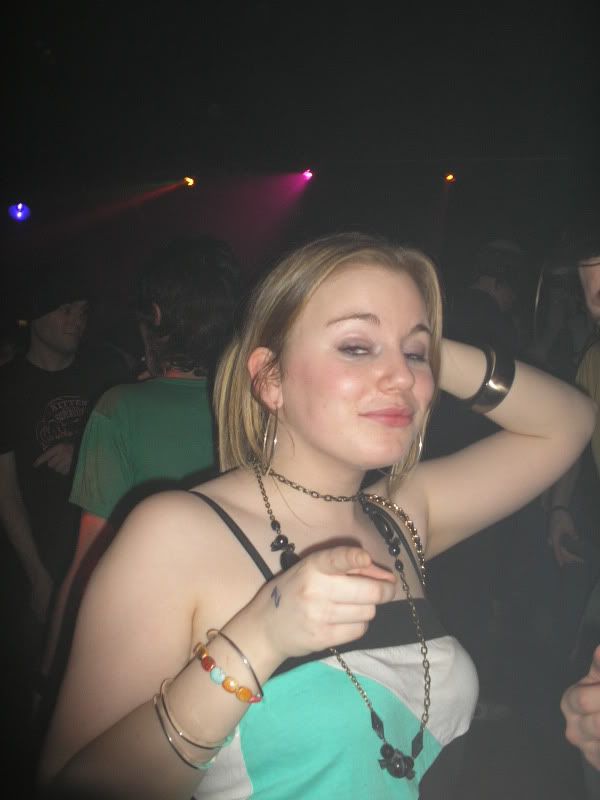 Caitlin was there too with her cowboy routine




Friday - 17/02/06

I was in a verry good mood the next day, I walked my dog and lazed for a bit. I went to RG's for a bit with others. It closed early so we decided to go to the Cathouse and once again lots of good poeple were out.






Toma doesnt have a beard anymore



Liam had to leave early because he was starting his new job, in DESTINY



We were happy to be inthe pub



Ross tried to strangle Andrew



Ross took pictures through glasses



TOny made faces



There was change on the table, we made a pound and tried to get Toma to buy a drink but he wasnt having it :(



This couple were realy public, groping and everything, YUCK



one pound



Kevan made faces



Ross is hiding...?



Whats Andrew doing?



Ross' phone, Jaye's phone, MY PHONE!



Toma got punched



Ahhhh, those faces



Im hideous in this photo, but clearly im hilarious



Jaye showed off her bum



I think Kevan has drinking probblems



Toma didnt have a seat so he sat on Kevan and Andrew



Tino was out in full force



I gave Ross an STD, LOL



At this point I decided to start hiding from the camera



who knows what that dirty mark is on my neck



Richard was out



Its the boy with the blood brothers t-shirt




Saturday - 18/02/06

Gary came to mine and so did Jaye. Jaye was just stopping off before she went out she made rolls to take with her. I tried to give her something to put them in but she put them in her pocket! We found it a bit disgusting. Gary was knackered and just slept really, which doesnt really make for the most exciting saturday nights but I didnt mind.




Sunday - 19/02/06

Jaye and me went to see Toma play in the Vale we didnt stay long because I had college in the morning so we taxi'd it home because buses are cold

Tuesday - 21/02/06

I went to college and ate lots of fruit. Shaun got jealous so I gave him a tangerine




Gary came round and we watched Family guy. He stayed over again

Wednesday - 22/02/6

We got up, I made Gary some breakfast and sent him on his way about half past eleven went back to bed and Chris came round about 12. I made him sone lunch and we took a walk down Duke Street. We watched television until it was time for him to go.

Yesterday

I finally got off my bum and did some college work because everything is to be handed in on tuesday :(

Today

I have done nothing and I've no idea what I'm doing tonight